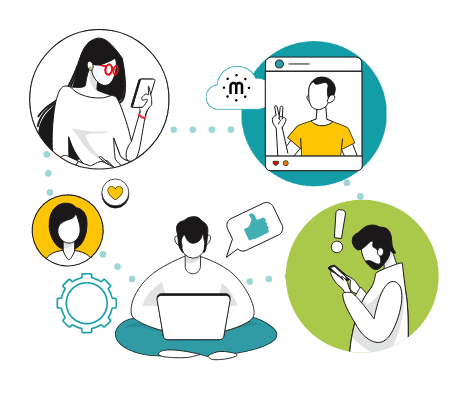 Discover Hybrid edgeCloud application in Business and IT
We are amid a historical transition into a hyperconnected world where devices and apps must process data and communicate locally. Automation via intelligent workflow is becoming a necessity for both enterprises and consumers.
In this virtual roundtable (webinar), we will discuss business needs for automation, opportunities, the technical aspects of platforms and enablers, the market's early evidence as well as the ecosystem partnership to enable to hyper connected digital economy.

Introduction
Business Ecosystems
IT Implementation and technical Aspects
The Potential opportunities, benefits & Challenges of edgeCloud Infrastructure
Q&A
Fay Arjomandi is a serial entrepreneur and renowned leader in tech industry and has founded L3 Technology, Mobidia and mimik. She has filled many executive roles including CEO of Vodafone xone, the global venture incubation and Beta brand, chairman of Vodafone Americas foundation, board member of Vodafone Enterprise US and CEO at Nantmobile. Fay has been granted many patents and is the official member of Forbes Technology Council. She has been named "the edge women of the year" in 2020, and was named one of the most influential women business leaders in Silicon Valley in 2014. She has also received the distinguished Business in Vancouver's 2006 "Top 40 Under 40″. Fay is the pioneer of the disruptive Hybrid Edge Cloud technology bridging the gap between the cloud and edge and empowering the vertical industries such as Fintech, HealthTech, EdTech and IoT.
General Manager, Cloud & Edge Ecosystem. Working with partners, ISVs, hardware manufacturers and global systems integrators (GSI) to drive the adoption of IBM's secure open / hybrid / multi-cloud platform to enable enterprise application modernization and journeys to the cloud. Focused on enabling ecosystem partners to drive success with their own clients by taking advantage of the IBM Cloud Platform, Red Hat OpenShift, the Financial Services Ready IBM Public Cloud and the Cloud Paks. Also responsible recruiting and growing revenue through the IBM Edge Ecosystem.
Rob High is the Vice President and Chief Technology Officer for the IBM Edge Computing portfolio. High has architecture and technical strategy responsibility for offerings that will enable a new generation of edge computing — where work is placed close to where data is produced and actions are performed. Prior to this assignment he was the CTO for IBM Watson, responsible for setting the technical strategy and vision for IBM's leadership in AI computing. High is recognized as a global technical leader, author and evangelist, and was named an IBM Fellow in 2008 for his pioneering work in the field of SOA and for his leadership on WebSphere.
Michel is a renowned technologist in field of software systems, telecommunication, cloud and API. He's a TM Forum fellow for his contribution to 120 operators using the API(s) that he's defined. Prior to mimik he was the CTO of Nantmobile, CTO at H2 Wellness, Lead architect for service delivery Appigee for IoT and Telecom, Chief Architect and distinguished engineer at Vodafone Group, CTO of communication sector at Microsoft where he invented many products, CTO at Embrace network. Michel and Sivash invented the first mobile edge computing platform for telecom sector at Vodafone. Michel has granted many patents across the technology sectors.

For future events please subscribe to our mimik newsletter